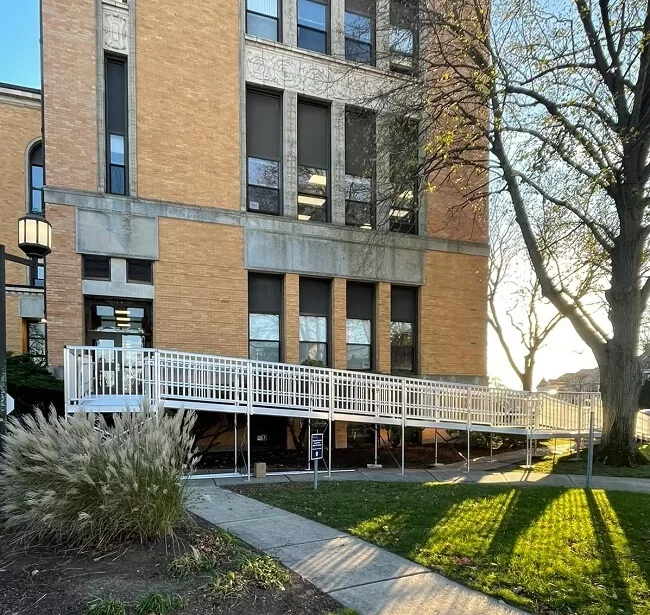 ADA-Compliant Ramps for Businesses
ADA and IBC compliant ramps for businesses are essential to ensuring your facility is accessible to all. At Commercial Access, we specialize in creating ramps that surpass ADA and IBC standards and can withstand heavy use, so you can have confidence knowing all customers will have a safe and comfortable experience at your business.
Modular Ramps to Surpass Standards
ADA-compliant ramps are a must-have for any business with an accessible entrance. However, the codes and regulations pertaining to ADA compliance vary by region, making it a challenge to ensure that your ramp remains up to code.
Fortunately, Commercial Access designs ramps that abide by all ADA requirements, giving you peace of mind that an inspector anywhere in the nation will approve your ramp. Other benefits of our services include:
Accurate designs and installation: All Commercial Access ADA-compliant ramps are designed by professionals and installed by a factory-trained team. With the help of these experts, you can ensure that your ramp meets the exact specifications necessary for your company.
Quick turnaround: You need your ADA-compliant ramps installed quickly so that you can return to business as usual. With Commercial Access, you get an accurate ramp design within hours and professional installation within just days.
Durable systems: Modular, heavy-duty aluminum construction means that these ramps can withstand daily wear, even in high-traffic areas, without requiring extensive maintenance.
Trusted results from access experts: We've helped businesses comply with ADA guidelines since our founding, so you can trust that we'll deliver the desired results. Our team understands the challenges of complying with accessibility regulations and will work closely with you to find a solution that meets your needs and budget.
The Commercial Access Mission
Commercial Access remains dedicated to delivering the best access systems possible.
We understand that each building is unique, so we know the importance of an access system that fits your needs and applications. That's why we offer modular access systems customizable for any situation and provide you with the industry's fastest quotes, designs and installation service — while still maintaining high quality standards.
When you work with Commercial Access, you're not limited to stock designs. We offer full customization and take the guesswork out of access so you can focus on growing your company.
Get Started With Commercial Access
At Commercial Access, we believe that when you provide a safe and accessible environment, you empower your employees to do their best work and your customers to have the best experience possible.
Whether you're starting from scratch or have existing ramps, we're prepared to solve all your accessibility challenges. Contact us online today or call 845-610-6398 to learn more!
Contact Us Call Us Now for your
free evaluation 845-610-6398