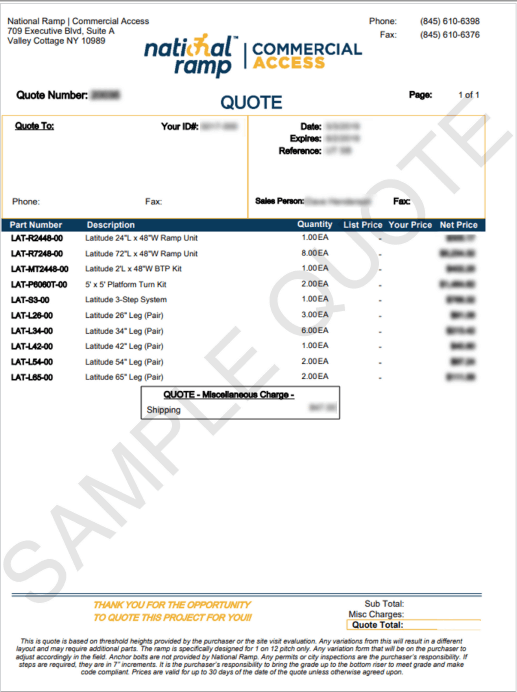 Whether you need to get a building permit or bring an existing structure up to code, Commercial Access has the expertise and experience to ensure your project stays on track. Request ramp and stair quotes today to have our experts navigate the maze of regulations, codes and laws on your behalf and see results fast!
Here's a sampling of the hundreds of drawing ready for use. Don't see what you need, call us and we'll have your drawing to you today.
Receive Comprehensive Quote Packages
Commercial Access offers high-quality, low-maintenance aluminum stairs. These stairs are unique in their adjustable leg system to match terrain and feature slip-resistant aluminum treads. Or, select from the 48- and 54-inch width ramp options for a modular access solution. No matter what ramp or stairs you choose, you can rest assured that your quote package will allow you to:
Budget accurately: We provide same-day quotes and access ramp cost breakdowns, so you can anticipate the site's needs while preventing surprises or cost overruns later in the project.
Determine cost-effective solutions: With experts ready to help you solve access issues, you can meet your or your client's needs while keeping project costs under control and reducing the risk of delays.
Move forward with your project more quickly: Our same-day quotes help you ensure your project is completed on time and within budget by avoiding long wait times.
Improve the final design: Commercial Access's designs are crafted to match the surrounding architecture and can add an aesthetically pleasing element to a business's entrance.
Maintain compliance: With a focus on safety, durability and functionality, your stairs or ramps will meet all safety and accessibility standards, including OSHA, ADA and IBC requirements.
Plan Compliant Entryways With Commercial Access
Take the hassle out of planning compliant access with fast and accurate quotes from Commercial Access. Since no two sites are identical, we ensure every design is site-specific. Over the last 10 years, the Commercial Access team has installed over 10,000 ramps, so we know what works. We'll consider ground slope variations and obstacles like tree roots or utility lines to ensure you get the best possible access solution for the property.
After you submit your quote request, our team will provide detailed CAD and Revit drawings, ready for wet-stamping as needed for your permit submittals.
If you choose to have stairs or a ramp installed after receiving your quote packet, we can handle that too. Using our extensive in-stock inventory, we'll have your access solution up and running in no time. Installation is often within one week of design approval, so you can quickly have stairs or ramps that:
Reduce the risk of slips, trips and falls: Between long-lasting treads, guard rails and compliant grades, your outdoor ramp or staircase will withstand years of wear and tear.
Allow for better movement between different levels: Whether you need to transport heavy equipment or ensure everyone can access the building, the stairs and ramps we design for you will be sturdy, reliable and designed specifically to accommodate your needs.
Create a more inclusive environment: Make a more welcoming atmosphere for all and increase your customer base by making your site more accessible to those who might not be able to visit otherwise.
Download a Quote Packet
After requesting a quote from Commercial Access, you can have a new access ramp or stairway quickly. Simply download the packet, fill out the form, and we'll take care of everything from there. Submit a quote request now!
Contact Us Call Us Now for your free evaluation 845-610-6398