How It Works
We designed our commercial access ramp process to ensure you get your desired product, from designs to physical ramps, with quick turnaround times. Our process starts the minute you contact us and from there we handle the details for you every step of the way.
1. Provide Us With the Project Specs
With Commercial Access, you can get access ramps designed to fit your needs. We provide site-specific designs using the essential information you give us to make the most of your planned ramp, incorporating factors such as:
Door height
Basic building layout
Relevant building dimensions
Potential obstacles
Ground slope variation
2. Let Us Engineer the Most Effective ADA and IBC Compliant Solution
Ensuring regulatory compliance is a top priority. With custom CAD drawings, you can rest assured that your project will surpass all local, ADA and IBC requirements. Our team will develop site-specific designs tailored to your space and deliver the most effective solution for your site using:
CAD
AutoCAD
Revit Drawings
AEC Teams
After our experts analyze the data and deliver your final design within hours, you can review the quote packets and request the wet stamping needed for your permit submittal.
3. Review the Quotes and Drawings
The final verification process is critical to ensure your ramp is ideal for your location. Once you receive project approval and place your order, we'll perform a secondary review of the design, materials and placement to ensure it perfectly fits your requested parameters before installation.
4. Plan for Same-Day Shipping
With Commercial Access's in-stock inventory you can have your access ramp shipped immediately. To ensure project success, we have strategically placed warehouses around the country to successfully work within your timeline, milestones and due dates while delivering a product that meets all of your needs.
5. Have Your Ramp Installed
Our expert, factory-trained team will install your unit using parts that are in stock at our in-field warehouse. We can get you up and running quickly — without the long wait times associated with ordering parts from suppliers. With extra inventory on hand, we can immediately adjust to any on-site changes and get the unit back on track.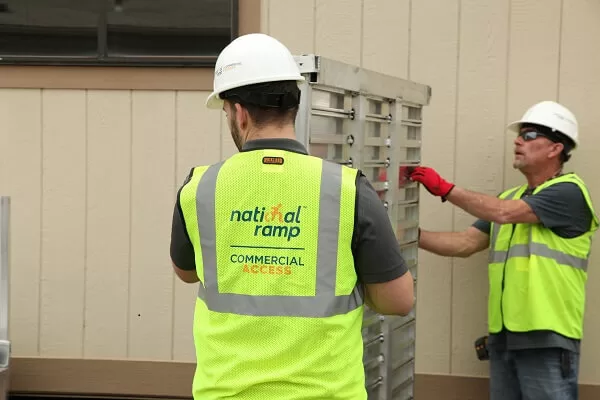 Why Choose Commercial Access?
With Commercial Access, you can bridge the gap between speed and quality. From emergency projects to long-term needs, we will meet all your expectations and requirements. We offer:
Superior customer service: When you choose Commercial Access for your ramp, you can count on us to provide you with a great experience from start to finish. We will work with you from design through installation to ensure you get exactly what you want in the time frame that works best for you.
Expertise: With our extensive knowledge of ADA guidelines and IBC codes, we can ensure that your ramp and designs meet all necessary standards. Our experts will happily help you with any questions you may have, as we have done since our founding.
Expedited delivery: We know that time is of the essence, so we'll provide CAD drawings within hours of your request. Then, the installation will take place within days of receiving final approval on the design.