Access Ramps for Commercial Buildings
Commercial buildings are the backbone of our country's economy.
But what happens when you have a customer with limited mobility who needs to enter your building? Or if your employees need the ability to move loads in and out safely and efficiently using wheeled equipment? Whether you operate a company that builds or rents commercial spaces or you work in one yourself, it's essential to make sure your commercial building remains accessible to all.
Commercial Access offers access ramps for commercial buildings so everyone can enjoy these spaces safely and comfortably.
Benefits of Durable, Code-Compliant Ramps
Access ramps provide a safe way for anyone with mobility issues to get around a commercial building without worrying about stairs or other obstacles. Plus, ramps help commercial businesses:
Reduce liability: Building codes protect you and your employees. A code-compliant ramp ensures you are adhering to established regulations, which can reduce your liability in case of an accident or injury on the premises.
Add convenience for employees and customers: With an accessible environment, you can improve the lives of your employees and customers by making it easier for them to access your building.
Save money on renovations: Adding a modular accessible ramp from Commercial Access is much less expensive than renovating an entire building.
Follow ADA guidelines: Access ramps are a requirement of the Americans with Disabilities Act (ADA), a federal law that protects people with disabilities from discrimination in employment, government programs and public accommodations. Your Commercial Access ramp installation will meet the needs of all users, including those who are elderly, have mobility impairments or use wheelchairs.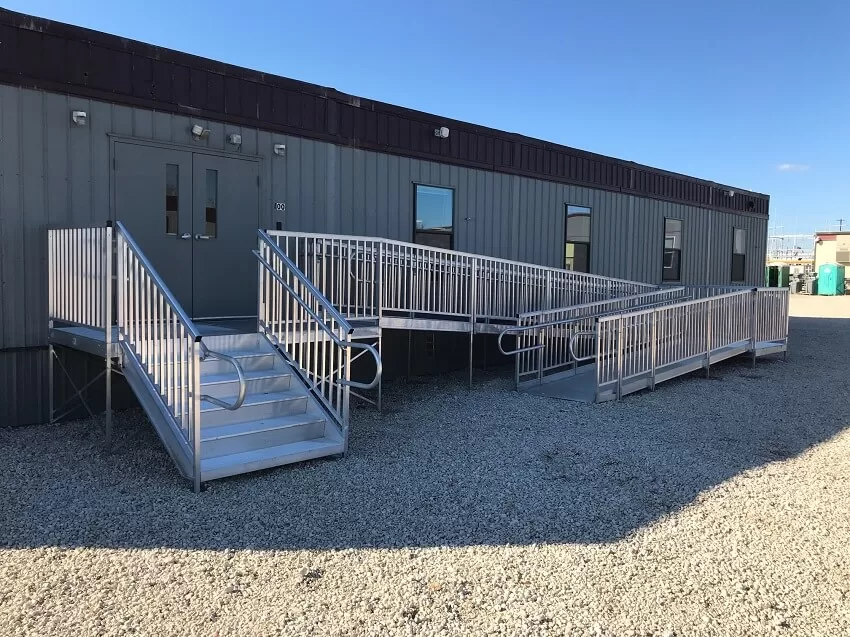 About Commercial Access
The journey from idea to reality is exciting, and we're here to make it as smooth and successful as possible. From start to finish, Commercial Access is your full-service ramp solutions partner, offering:
Multiple solutions: Commercial Access is a leading provider of accessible products that empower businesses and their employees to become more inclusive and prosperous. Our customizable portfolio includes ramps, steps, platforms, decks and walkways designed with the user in mind. If you need designs fast, we can help with that too! Our team expertly produces CAD drawings within hours of the request.
Extensive experience: Since 2007, we have supported businesses nationwide by providing the perfect commercial ramp solution for their needs, whether that looked like a last-minute CAD drawing or a quick ramp installation.
Commitment to quality: At Commercial Access, we're committed to quality. After a project gets approved, we subject it to a rigorous quality assurance process to ensure that every aspect meets our strict standards.
Connect With Our Team Today
We know you want to get your business up and running quickly and efficiently. That's why we're here to help you with every step of the process — from quote requests and design to installation and beyond. We'll work hard to ensure that your ramp arrives precisely how you want it.
Contact us online or reach us by phone at 845-610-6398 today to start seeing progress on your commercial building project.
Contact Us Call Us Now for your
free evaluation 845-610-6398