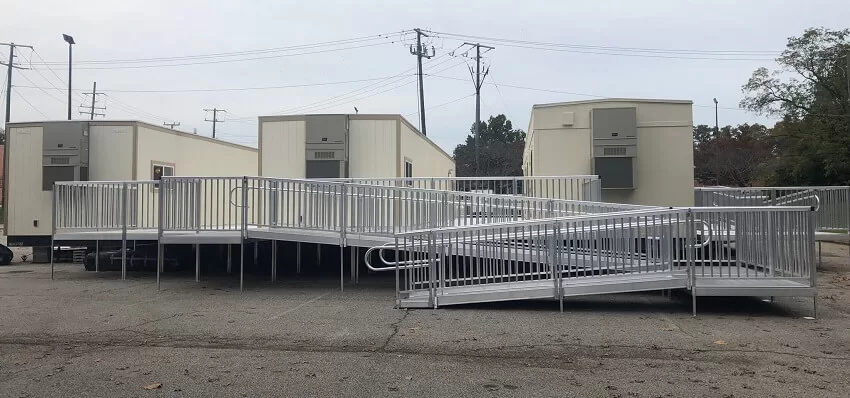 ADA Ramps for Government and Military Contractors
You need a safe and reliable solution when getting your employees and contractors to the job site. Commercial Access is committed to providing our government and military clients with the ADA compliant ramps they need to create the most efficient work site possible. From design and construction through installation and maintenance, we ensure that your quality ramps are installed correctly and last for years to come.
Call Commercial Access at 845-610-6398 to learn how to quickly receive a ramp that will boost your site's safety, productivity and accessibility.
Customized Access Solutions for Unique Sites
Code-compliant ramps are a must-have for government and military contractors. Used to improve employee satisfaction, reduce liability, help with transport and make it easier to move around the workplace, quality ramps can withstand high-traffic areas while providing a safe, sturdy surface usable by employees of all ages and abilities.
Our durable, easy-to-install and aesthetically pleasing ramps seamlessly fit historic structures and modular buildings alike. Featuring a maintenance-free aluminum construction, these long-lasting ramps will satisfy any temporary or permanent access requirements you may have in these and similar structures:
Government buildings
Military Buildings
Military camps
Barracks
Shelters
Hangars
Mess Halls
The Commercial Access Process
In five simple steps, you can begin your ramp installation.
Submit project specs: After you contact us, we'll ask that you provide details of the site, such as the area's layout, door height and any obstacles that may affect your final design.
Let us determine the best ADA- and IBC-compliant solution: We'll take all the information you provide and determine the code-compliant ramp solution best suited for your project.
Receive your quote and drawings: You'll receive an estimate from us within hours, along with all the drawings necessary for permit approval.
Rely on same-day ramp shipping: Once you give us the go-ahead, we will ship your ramps directly from our well-stocked local warehouses, allowing you to meet all deadlines and enjoy quick results.
Have your ramp installed: With our factory-trained installation team and extra inventory on hand, we can ensure your installation is done with care and proper attention to detail.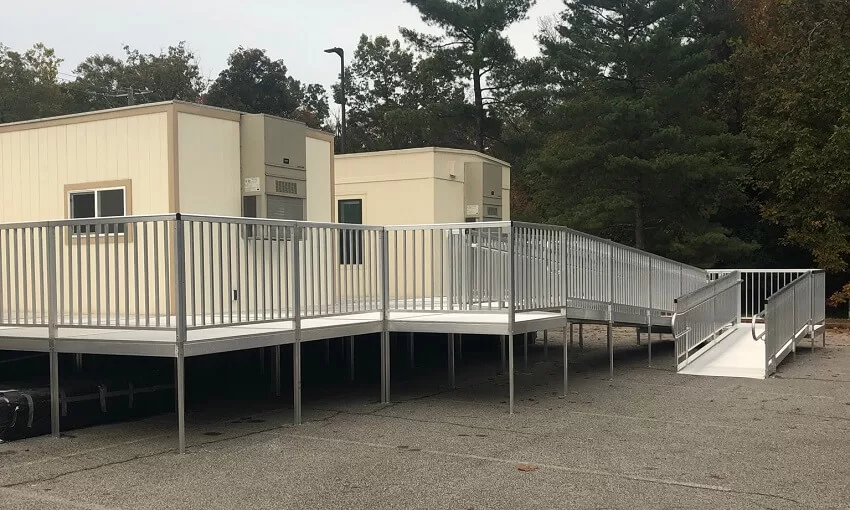 Benefits of Partnering with Commercial Access
When you need an ADA-compliant ramp for your government or military contract, you want a sturdy solution that will meet your facility's demands. That's why Commercial Access offers:
Industry-leading delivery speed: Our streamlined process allows you to receive your quote within hours and your ramp installation within days of design approval.
Durable access systems: Commercial Access modular aluminum ramps feature a low-maintenance, heavy-duty design to withstand the wear and tear of regular use.
Diligent code compliance: From design through installation, our experts follow local regulations, ADA guidelines and IBC specifications, so you can rest assured your investment will meet all inspection standards.
Expert staff: Our skilled designers will work with you from start to finish to ensure that your ramp meets all requirements for accessibility and functionality. At the same time, our factory-trained installation team will navigate any challenge that arises during installation.