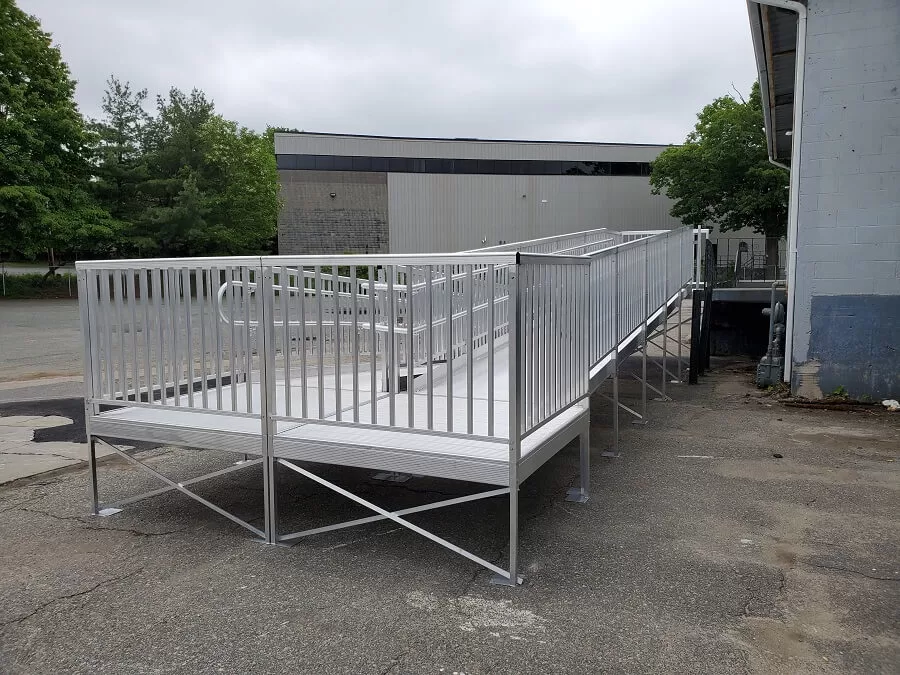 Access Ramps for Businesses
At Commercial Access, we know that wheelchair access ramps are more than just a convenience — they are a necessity and a legal requirement under the ADA. We've made it our mission to design and install aluminum wheelchair ramp systems that meet your customers' and your business' needs.
Platforms are required when a ramp is installed at a commercial building. This is to ensure safe entry and exit of the ramp at doorways or for landings when the specs call for one. There are specific requirements that must be met for each design. The team at Commercial Access are experts at designing platforms and ramps into a safe and fully functional system.
Our platforms are made of the same high-quality aluminum that our ramps are made from. They are designed to be used as an integrated system and fit together perfectly. The modular design of both our ramps and our resting platforms allow them to be quickly, efficiently and safely installed on virtually any commercial building including schools, universities, retail buildings, hospitals, modular buildings, and churches.
Why Businesses Need Accessibility Solutions
Safety is the most crucial consideration when designing buildings. Access ramps are one way to ensure that the building is safe for everyone who enters it, regardless of their mobility needs. Choose access ramps to:
Attract new customers. A barrier-free entrance ensures that even those with limited mobility can access your services and products.
Reduce liability risk: Quality access ramps help businesses avoid liability if a person gets hurt on your property, especially if an uneven or slanted walkway could cause someone to trip and fall while entering or exiting the building.
Invest in your business's future: When you install an access ramp, you set your organization up to continue to grow and prosper as new technologies emerge and new regulations are put into place.
Follow necessary guidelines: Access ramps ensure your business complies with state and local building codes, which require many facilities to provide wheelchair-accessible entrances in new construction projects or when renovating existing buildings to meet ADA requirements.
Help with deliveries: With our quick-to-install, durable access ramp systems, you can improve the flow of goods in and out of your facility to reduce costs and increase efficiency.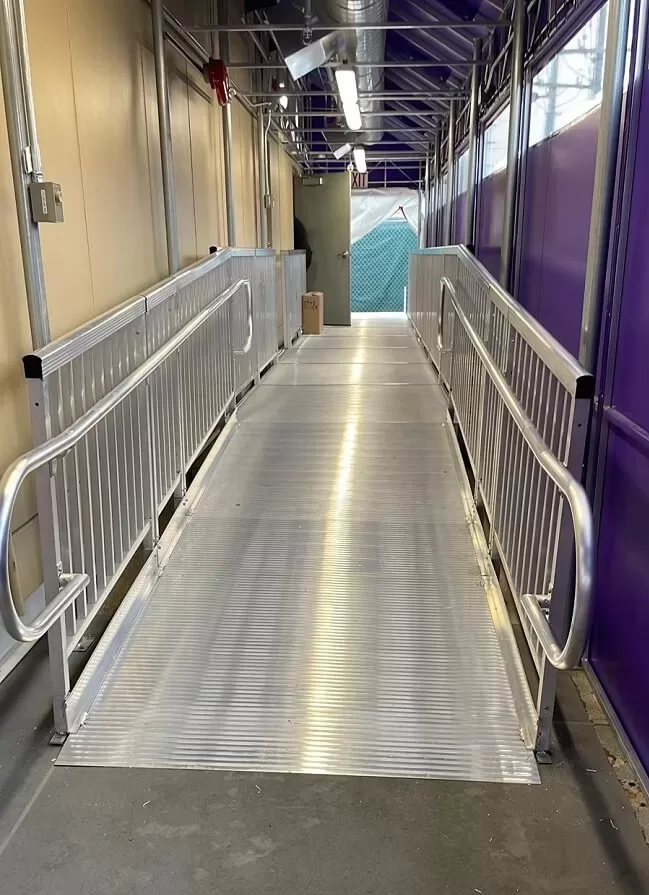 Get to Know Commercial Access
Since our founding, Commercial Access has provided modular wheelchair ramp systems with all the versatility, durability and convenience needed to help businesses thrive. Partner with us for:
Rapid delivery speed: Every minute counts when it comes to making sure your facility is accessible, so we'll get your quote returned within hours and your ramps installed within days of approval.
In-stock ramp components: We have a large inventory stocked in warehouses near you, giving us swift access to the equipment your project requires — no waiting around for shipments or dealing with high shipping costs.
Factory-trained installation teams: Whether designing the ramps, installing them or working with you to determine which models will work best for your facility, our factory-trained teams are ready to help.