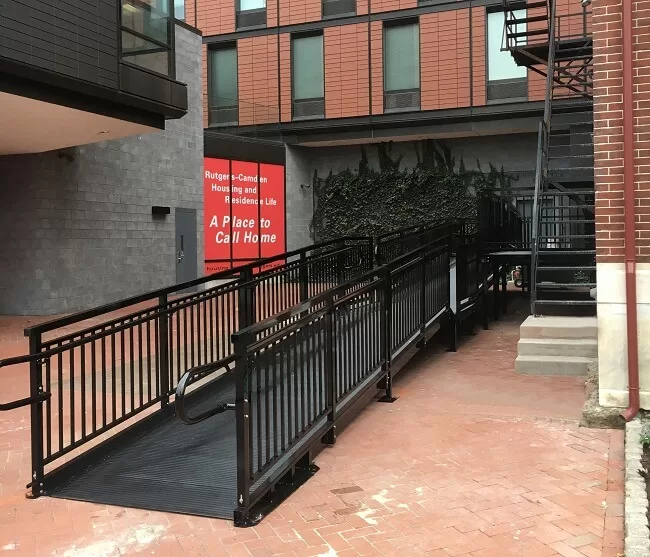 Building Compliance Codes for Access Ramps
Not all access ramps are made equal. At Commercial Access, we exceed all code requirements and provide peace of mind that your structure complies with the latest regulations.
Common Compliance Code Types
Building codes provide a set of minimum standards to help ensure buildings are safe, hygienic and durable. This measure reduces risks such as collapse and occupant injury due to structural failures, verifies that occupants can safely occupy the building, and establishes guidelines for how construction materials should be used to prevent any issues. Quality ramps abide by codes including:
Local Requirements
When it comes to ramps, there are often many local requirements and codes you must abide by. These stipulations can differ depending on what type of ramp you aim to build. The good news is that partnering with experts can help you abide by every code when installing your chosen ramp.
ADA Specifications
The Americans with Disabilities Act (ADA) is a prominent civil rights law that protects people with disabilities and ensures equal opportunities for them in employment, transportation and public accommodations.
It also includes provisions that require businesses that provide goods or services to the public to make reasonable accommodations for people with disabilities, meaning companies must offer appropriate modifications to their facilities so these individuals can fully participate on an equal basis with others.
All compliant ramps must meet the many ADA standards that ensure the size and shape of modern wheelchairs work with the structure.
IBC Guidelines
The International Building Code (IBC) is a set of minimum building regulations developed by the International Code Council and adopted by most local jurisdictions in the United States. Updated every three years, the IBC provides a baseline for constructing safe buildings.
Many IBC requirements apply to all types of structures, but there are also specific requirements for the ramps and landings within.
OSHA Regulations
The Occupational Safety and Health Administration (OSHA) is a U.S. government agency that ensures all workplaces are safe and employees receive protection from injury or illness while on the job.
The OSHA regulations for ramps include those used in construction sites and warehouses to get heavy equipment into the building or around the area.
Comply With All Ramp Regulations With Commercial Access
Since our founding, Commercial Access has provided comprehensive ramp solutions to ensure buildings comply with all requirements set by ADA codes, IBC codes, local regulations and more. To receive quotes and designs within just hours, followed by ramp installation within days of approval, contact us online or call 845-610-6398.
Contact Us Call Us Now for your
free evaluation 845-610-6398