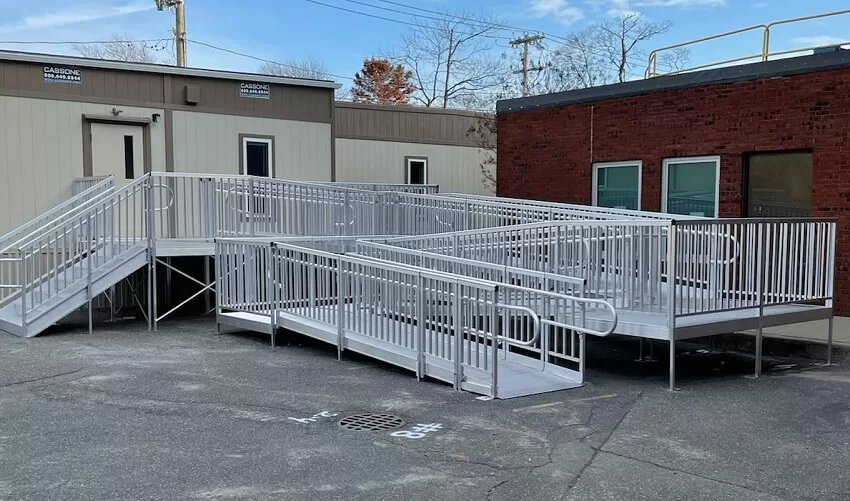 Access Ramps for Commercial Contractors
When your commercial construction project requires an access ramp, you need one that will last. Whether you're building a new structure or renovating an old one, the experts at Commercial Access will plan and install the right access ramp for the job.
Find Your Access Ramp Solution
At Commercial Access, we understand the challenges of being a commercial contractor. Your time is valuable, so you can't be subject to downtime waiting for the right equipment. Our services help you:
Make your site safer: Our access ramps ensure contractors can comply with ADA requirements and make their sites safer for all employees and visitors.
Boost efficiency: Access ramps also allow for faster movement through the site and make it easier for workers to reach remote locations.
Enjoy a modular design: Commercial Access modular ramps provide a lot of flexibility in terms of design. Move them around as needed or even contact our team for assistance changing the layout if necessary.
When you need access ramps from Commercial Access, you can trust us to deliver a top-tier design that fits your time frame. Our streamlined process eliminates any obstacles that could make your project take longer than necessary.
We complete our work with speed, efficiency and transparent communication, providing you with:
ADA- and IBC-compliant structures delivered to your site fast.
Accurate plans you can implement quickly.
Access to our team's expert knowledge.
Our Process
We know that the most challenging part of installing a ramp is the planning — and we want to take care of all of it for you. That's why we've created a process that makes getting an access ramp as easy as possible. First, send us your essential information and tell us what kind of ramp you need. Within hours, we'll send you a custom quote and CAD drawing. Once you've verified and approved the design, our team will install your ramp within days.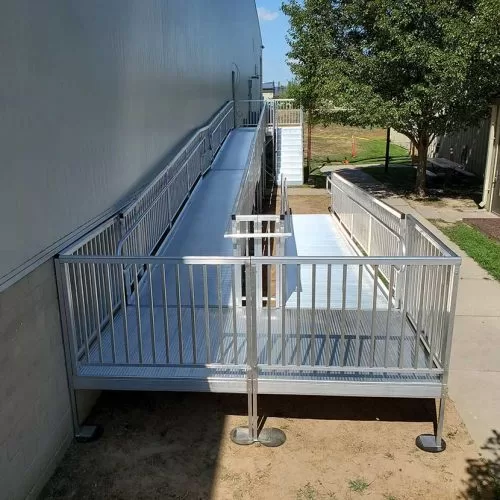 Commercial Access — Combining Speed and Quality
Since 2007, the Commercial Access team has built our reputation on quality, innovation and outstanding customer service. Our team of professionals remains dedicated to providing you with the best solutions for your business alongside our:
Large inventory: Our extensive inventory of commercial access products allows us to deliver a customized ramp that will meet your exact needs. 
Comprehensive quote packages: We want to ensure you have the information you need, so we offer complete quote packages that include easily wet-stamped and site-specific drawings.
Industry-leading delivery speed: We know you want to get your ramps up and running as quickly as possible, so we provide one of the fastest turnaround times in the industry. 
Get Your Project Started Today
With our wide selection of ramps for commercial contractors, you can find a solution that fits your needs and budget. Whether you need a quick-turnaround design or a modular ramp, we have you covered! At Commercial Access, we understand the importance of having everything you need to complete your projects, so we offer one-stop services for all your access ramp needs.
Get the fast results you need by calling us at 845-610-6398 or contacting us online!
Contact Us Call Us Now for your free evaluation 845-610-6398