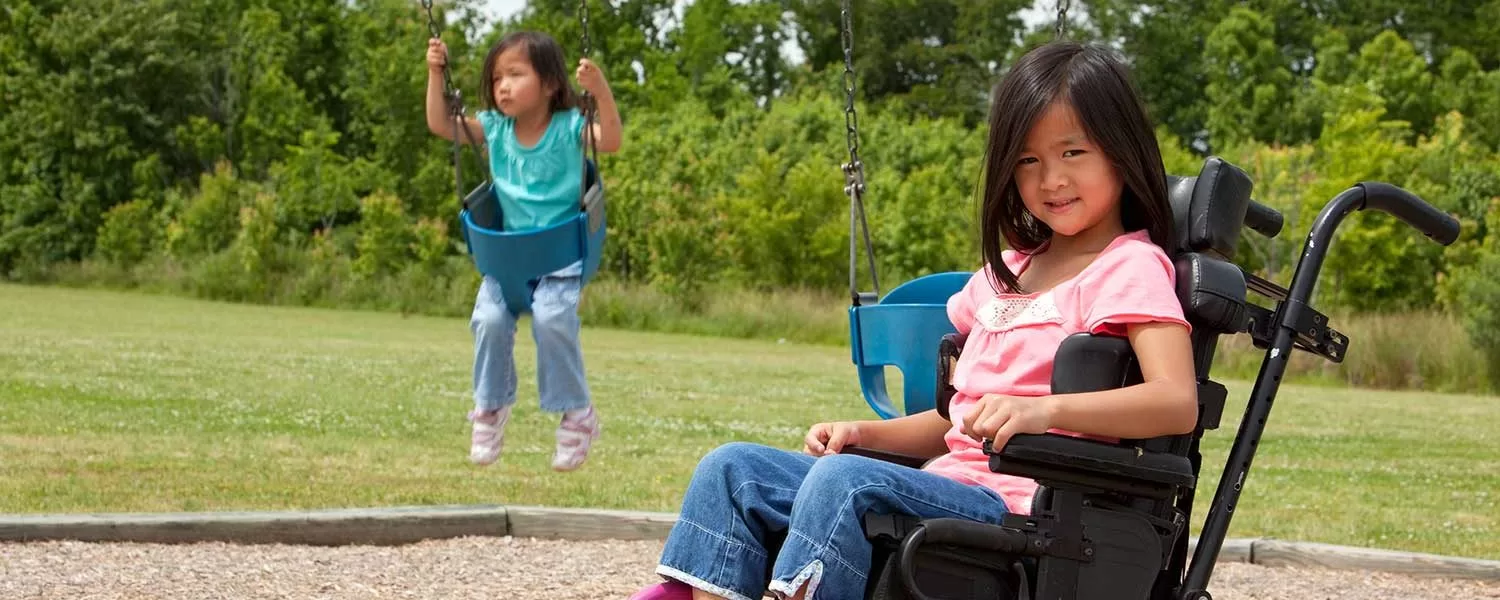 While your school needs to be accessible to students with disabilities, the ADA goes much further than accessible bathroom stalls and wheelchair ramps. The following examples are all taken from recent Justice Department settlements with school districts, universities, recreation programs, and summer camps and show there's more to the ADA than a 1:12 ramp pitch.
Accessible Playgrounds
In June 2020, the Justice Department entered a settlement with a school district whose numerous playgrounds were not accessible to children who use wheelchairs and other mobility devices. The agreement requires modifications to completed playgrounds and changes to the plans of those currently undergoing construction.
Violations were found in grass and dirt walkways, ramps without handrails, and barriers between different play elements of the same play area, among others.
Sign Language Interpreters and Auxiliary Aids
In May 2020, a settlement was made with an after-school soccer program for failing to provide adequate translation services for their son, who is deaf, which didn't allow him to participate at the same level as his non-disabled peers.
Failure to provide acceptable translation services for people who are deaf/hard-of-hearing is also a common ADA violation among hospitals and other medical services.
Preventing Medical Discrimination
A February 2020 settlement with a daycare facility for refusing to allow a child into the program after their mother informed the facility that her son was exposed to Hepatitis C at birth is an example of how facilities may not consider that the ADA protects people with HIV/Hepatitis. A person with such medical conditions cannot be denied participation in a function without making an individualized assessment.
There have also been numerous settlements with programs for failing to admit or accommodate children with diabetes as a blanket policy, without being able to prove that the requested accommodations would provide an undue burden.
Students with medical conditions that are protected by the ADA should have full opportunity to participate in programs, with individualized consideration of any accommodations they need to manage their health and assess risk.
New Construction Woes
Following a complaint about the lack of accessible parking spaces and seating at a $50 Million college athletic facility center completed in 2016, an investigation found numerous violations within and surrounding the facility, including lack of adequate parking spaces, wheelchair and companion stadium seats, assistive listening devices, poor signage, and ramps not at the correct slope.
News articles about the settlement noted surprise from a disability advocate that these mistakes were prevalent in such a new building, indicating that there were many opportunities for them to have been caught before costly fixes were needed.
For specific questions on how susceptible your school or program is to a costly ADA violation, search for an ADA consulting firm in your area. Building plans should always be reviewed by someone familiar with ADA requirements, and the default should be to do as much as possible for other individualized accommodations. To make sure well-intentioned plans will work for persons with disabilities, ask those people in your community for their input.