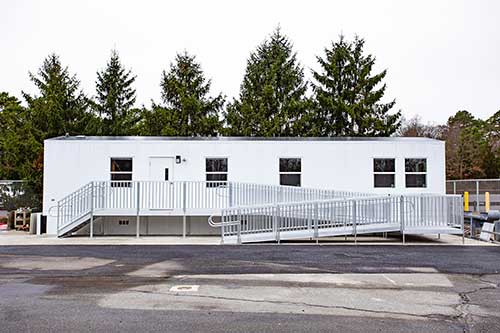 When your business has a need for a handicap ramp, it's a need that you can't wait around for, you need Access Now. Our ACCESS NOW program provides you with everything you need; Quotes now, Drawings now, Shipping now and Installation now. An ADA wheelchair ramp or Handicap Ramp is crucial to your business but should never be a hassle. From the design stages to years of maintenance-free use, Commercial Access has carefully crafted the entire process of the Latitude Series aluminum solid deck ramp for your ease to give you Access Now.
Commercial Access offers guaranteed code-compliance access on your timeline so you can achieve Access Now, significantly shortening the timeline to compliance versus other manufacturers in the market. Fully in-house engineered drawings for your project are available immediately and can even be wet stamped for job sites in the United States. When you receive your quote, you will receive fully isometric drawings of your system, not just a layout diagram. This allows you to satisfy the requirements of the engineers and inspectors that may be involved in your job. The highest-quality solution in the industry, the Latitude Series, is fully compliant to ADA and IBC guidelines, available in 48" and 54" widths, with interior grasping handles and vertical railings. The extruded permanent slip-resistant tread provides traction with a COF (coefficient of friction) that meets or exceeds ADA guidelines. The lightweight, aluminum ramp provides the best in strength and durability, with little to no maintenance.
When your modular building, classroom and stick-built project is ready to move forward, so are we. The Latitude Series stays in stock and is ready to ship same-day. The ramp system is designed to be easily installed in a matter of hours — not days. With Commercial Access, there is no need to wait for your job site to move forward because you need to be compliant now, not waiting for manufacturing.
Since the Latitude Series is fully modular, it can adapt to any configuration for your convenience. It can be reconfigured if your site needs change. The aluminum ramp can even be paired with Latitude Series Stairs for maximum flexibility, providing convenient access for all users. Similar wood ramps need to be scrapped and re-built from new lumber: A less efficient and time-consuming process!
Once the ramp is installed, the high-quality aluminum won't rust or corrode, requiring minimal-to-no maintenance. The ramp can withstand a 100 lbs. per sq. ft weight capacity, with 300 lbs. concentrated vertical load. The guards, internal rails, closures, and all components are engineered to not only comply with code requirements but also to withstand the daily rigorous beating of constant use. Backed by a 5-year warranty, the ramp will provide access without concern.
When your business needs a ramp, you need Commercial Access by National Ramp. Contact us today to get started on your Latitude Series aluminum solid deck ramp, become compliant now and give your patrons access now.