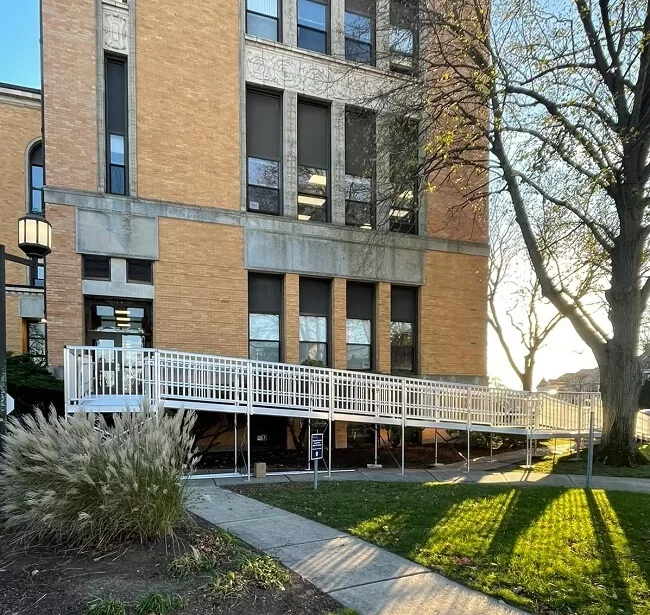 Commercial Ramp Designs for Architects
Accessibility ramps are a must-have for any building but can be a pain to design, especially when your schedule looks tight or you must amend a building's design at the last minute. As an architect, you know that meeting regulations is a must, so sourcing a solution you can implement quickly isn't enough — it must also be accurate and compliant with all codes that apply to your project.
That's where Commercial Access comes in. We design and build commercial ramps that follow all regulatory requirements so you can meet your deadlines and get approval fast, all while pleasing your client and letting you get back to designing the rest of the building.
Receive Custom Solutions Fast
We understand that you don't have time to wait around for your custom ramp design, so we make sure to get it done as quickly as possible with:
Detailed quotes and designs: We carefully customize our CAD drawings and design specs for your sites and requirements. We will work with you to ensure your new ramp meets all local, state and federal regulations and can easily be wet-stamped for approval, even on short notice.
Expert troubleshooting: At Commercial Access, we have years of experience in the industry, so our team of experts can help you navigate obstacles and find design resolutions within hours of your request.
Code-compliant solutions: The ADA and IBC codes are standards that ensure your custom ramp design meets the most rigorous regulations for safety and ease of access. We follow and surpass these guidelines to ensure that your ramp designs are compliant, safe and usable for everyone once implemented.
Industry-leading delivery speed: When you need a ramp design, you need it fast. We've got you covered with industry-leading delivery speed — have your CAD drawings in your hands within hours of submitting your request!
About Commercial Access
Since 2007, Commercial Access has provided our clients with the highest-quality access ramp services available in the industry. We have a proven track record of delivering speed, design accuracy and expert knowledge that no other company can match.
We understand that time is precious and you can't always afford to wait for someone to deliver your access ramp designs. That's why we provide a swift turnaround on every request we receive. No matter how complex or simple the job may be, we will return your designs within hours so you can focus on running your business instead of enduring unnecessary holdups.
When you choose Commercial Access as your go-to provider of commercial ramp designs, you select a partner who knows exactly what they're doing — and has built their business on delivering best-in-class service every single time.
Contact Commercial Access
The design for your commercial ramp is just a few clicks away.
Contact Commercial Access today to receive your quote packet and designs ready for wet stamping. Simply provide essential information such as layout, potential obstacles and ground slope variations for convenient, fast and reliable results. Contact our team online or call 845-610-6398 to speak with one of our team members about any project you need to get done — no matter how complex or time-sensitive.
Contact Us Call Us Now for your free evaluation 845-610-6398